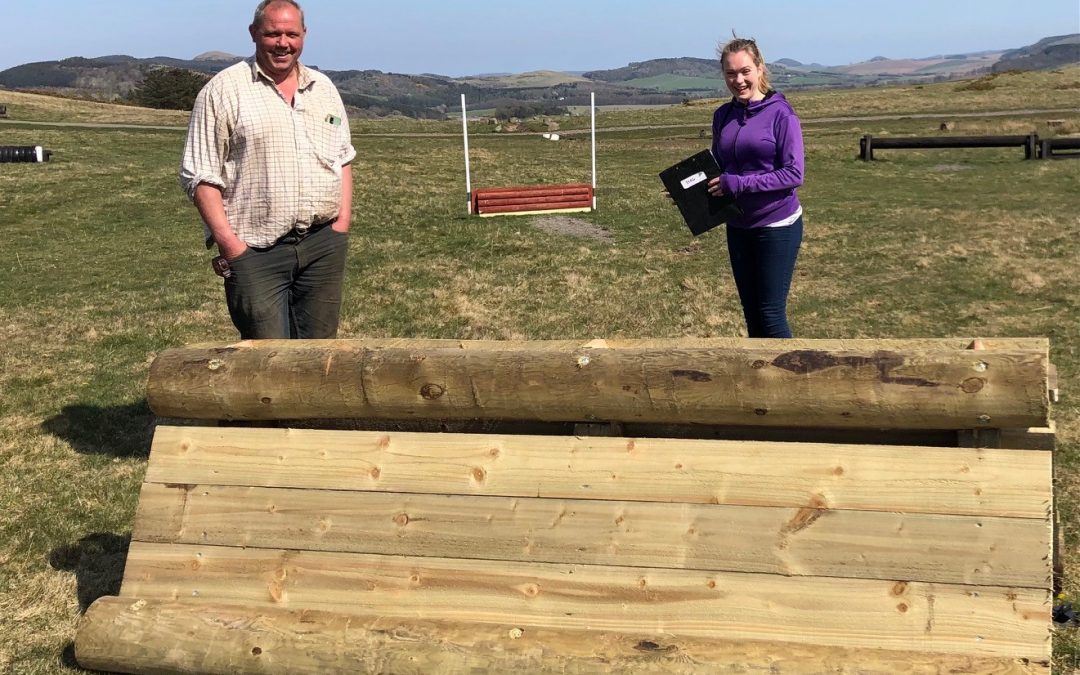 Lindores Equestrian has launched an exciting new partnership working with Paul Ellis, a Gold level BE accredited course builder, who builds, designs and dresses courses across the UK and Europe from BE80 to 5 star such as Athens and London Olympics.
Paul spent a very busy few days with in April us as he inspected and advised on our cross country course, Show Jumps and Working Hunter. We are proud to say that we continue to be fully compliant with BE regulations, and Paul was very complimentary about our courses.
"You have a fantastic set up for so many people to come and enjoy…"
Maintenance Undertaken
Maintenance work was undertaken to ensure our cross country was in the best shape possible, with take-off and landing areas dug back (once we got the digger up the hill!), ground lines cleared and painted, the visibility of top rails enhanced, and existing fences smartened up.
Course Development
Paul also built some new fences and combinations on the course. We have a new dog's leg near the water complex which includes a new shoulder brush, and two log piles have been relocated to a different section of the course to provide new related distance combinations.
Water Complex
The water complex was empty for Paul's visit in April so he was able to complete a thorough inspection of both the ground and sections of the jumps usually submerged. The ground was confirmed to be level and well maintained since its extension in 2020. Following Paul's inspection, we have also installed a pump system this summer to keep the levels in the water complex nice and high in drier periods, so there will always be plenty to splash around in!
Training
The team at Lindores have 30 years experience running an equestrian training venue but now Vicki has joined the team and Aaron as our lead on ground maintenance man they both received 1:1 training with Paul on the latest British Eventing regulations on fence safety, ground maintenance, fence combinations and colour considerations for our fences. Paul introduced our team to a new app which now helps our team compare what the horse can see versus what we see:
Following this technological insight we painted the top rail and ground line of the cottage in the wood, ditch edges and numerous other fences. All of this to help the horse better judge the jumps on approach.
The course is looking good and most importantly has been through a rigorous set of checks to ensure your safety with full compliance to BE regulations. We are thrilled to be working with Paul in maintaining the excellence of our courses at Lindores, and are very much looking forward to his next visit and the further development of our courses.
To come and see what we have been up to, bookings can be made online at:
Hope to see you all soon!