Why Camp Host Equiteam Love Lindores…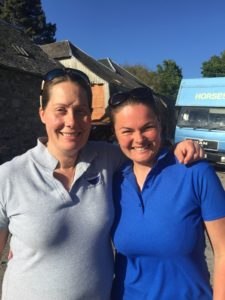 After a super busy camp filled Spring and early summer at Lindores, Louise Gillings, joint founder of Equiteam Confidence camps finds time to blog.  Louise has written this blog about why Lindores Equestrian is the perfect choice for hosting riding camps.
Equiteam Confidence Camps first came to Lindores in July 2014, which seems like a lifetime ago. Liz, my business partner, and I ran one camp to 'see how it would work'.  45 camps and several experience days later and 2019 is going to be our busiest year so far!
Before the first camp even started, the Black family and everyone at Lindores were welcoming and helpful. Nothing is too much trouble and whatever feedback we give is taken on board to make sure the venue is the best it can be.
There aren't many equestrian training facilities that offer a schooling area, onsite cross country course suitable for all levels from complete beginners upwards.  Luxury holiday houses with hot tubs, bunk rooms, toilets, showers, stabling and a meeting room (the bothy) with a wood burner and the all-important kitchen (our campers are a hungry bunch!).

Creating Experiences
We wanted to create a three day residential 'Pony Club Camp' for adults, that was friendly, encouraging and where people feel relaxed.  We wanted to create an experience where supportive like-minded people meet and dare to dream / achieve their goals.
The facilities are perfectly suited to our needs. The XC course has everything we could possibly need. From tiny horse jumps for people who didn't think they wanted to leave the floor, to some more progressively challenging fences.  And of course the feature fences that everyone wants to jump – Danny MacAskill, the stone cottage, boat and the Wobbleberry fences.  These signature fences are often the ones that feature the most in people's goals.
The new arena was a great addition in 2018.  It means that even during the challenging weather conditions of last year we could still always ride and achieve the lesson plan.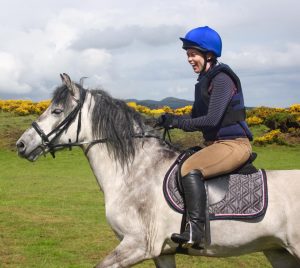 If The Bothy Could Talk!
I believe the real centre of our camp life though, is the Bothy.  It has seen tears (both happy and sad), lots of laughter, many units of alcohol, a bit of dancing and the odd confession that might leave you speechless.  The Bothy is such a great place for campers to come together or even have a sneaky snooze between lessons, it really is that versatile.
It doesn't get much better at the end of a busy camp day to look around the bothy to see happy smiling faces. New friends relaxing by the fire and sharing their achievements.
In addition we are very lucky that as our camps are residential we are able to offer a number of accommodation options to suit all budgets. The most popular is the onsite luxury self catering lodges – all of which have hot tubs (and believe me you will probably want a good soak).
Alternatively there is hook up available for lorries, a camping area for your tent and we've even had more than a few campers staying in their trailers.
The recent addition of the bunk room offers a brilliant extra option for campers who don't really want to 'camp' – there really is something for everyone.
I have heard people say that when they arrive at Lindores for camp it feels as though they are leaving their normal world and all of their worries behind and when they have to leave it's as though they are re-entering the universe!
We love that Lindores Equestrian can offer the perfect venue to create our welcoming camp environment – a perfect place to have a holiday or weekend away with your horse. Roll on the rest of 2019… we can't wait to be back."

Interested?
To find out more about Equiteam's three day residential camps and experience days click here.
Interested in hosting a camp or event then get in touch with the Lindores Team who will be happy to help. Contact Lindores Equestrian.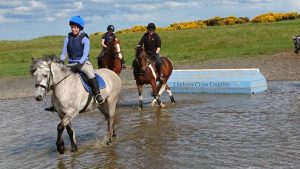 Stay in touch with Lindores Equestrian
Website – www.lindoresxc.co.uk
Facebook – www.facebook.co.uk/lindoresequestrian
Instagram – www.instagram.co.uk/lindoresequestrian
Twitter – www.twitter.co.uk/lindoresxc
Lindores – Stay Ride Relax
Website – www.lindores.co.uk
Facebook – www.facebook.co.uk/lindoresstay
Instagram – www.instagram.co.uk/lindoresstay
Twitter – www.twitter.co.uk/lindoresstay