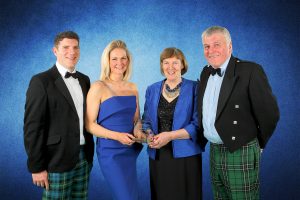 Lindores Equestrian in Fife, Scotland has been awarded Equestrian Business of the Year 2019 at the horsescotland National Equestrian Awards 2019. The family run business, which marks its 30th anniversary this year, is steadfast in customer care, collaboration and re-investment.
Grant Turnbull, Chair of charity horsescotland said "Lindores Equestrian has supported not only the equestrian community but also Scottish tourism. They have listened to demands and needs and continually develop the business in response. Their focus on customer care is exemplary."
What makes Lindores unique is that it has evolved by listening to customer feedback and it has kept the same friendly and welcoming family values throughout its 30-year life. Lindores Equestrian has grown and invested on what the domestic equestrian market and the international tourism market demand.
Frances Black who established the business in 1989 was the first person to set up a cross country training course in Central Scotland. Frances built up a strong Scottish customer base and recruited top trainers like Ian Stark OBE to coach local riders.
Now, the business is managed by Anna Black and offers customers all year training and horse holiday experiences for all budgets and standard of horse and rider.
Anna Black said 'we're so delighted and honoured that Lindores Equestrian has been recognised by the industry. We put our heart and soul into the business, always innovating and pushing to do better. We cried with delight when the award was announced!'
The business now collaborates with a large number of riding clubs, charities, and qualified instructors to provide safe and friendly kid and adult training camps or day experiences.
Lindores Equestrian has also collaborated with Wilder Ways Adventures to offer people who can ride but don't have a horse a sporting experience. Riders can book to trek, show jump in the new Olympic sized arena or even experience the jumps in the famous cross country course which is the size of 80 football pitches and has 125 horse jumps. This collaboration has now attracted international guests fly to Scotland and experience Fife.
The appeal of Lindores was only heightened when in January 2019 the business released a clip of world famous mountain biker Danny MacAskill racing top British event rider Louisa Milne Home. The fun and entertaining bike v's horse video was watched online worldwide and again put Lindores firmly on the map as a place to stay, ride and relax.
Lindores Equestrian
Website – www.lindoresxc.co.uk
Facebook – www.facebook.com/lindoresequestrian
Instagram – www.instagram.com/lindoresequestrian
Twitter – www.twitter.com/lindoresxc
Lindores – Stay Ride Relax
Website – www.lindores.co.uk
Facebook – www.facebook.com/lindoresstay
Instagram – www.instagram.com/lindoresstay
Twitter – www.twitter.com/lindoresstay