Rated No. 1 in Scotland by EQy magazine 2017.
#LindoresStay #LindoresEquestrian
At Lindores we offer a range of holidays with your horse to suit all budgets, with prices starting from £30 per night.
Why come to Lindores?
Everyone loves spending time with their horse / family / friends, so why not bring them all with you to Lindores? We are situated just outside Newburgh in the stunning Fife Countryside and offer the ideal retreat for you and your four legged friend(s). There is plenty of hacking / walking around the farm with stunning scenery, we have a large enclosed grass paddock for riding in (complete with a course of show jumps), 30 stables, sand-school, a tack room and an awesome cross country course with fences ranging from 30cm – 1m+.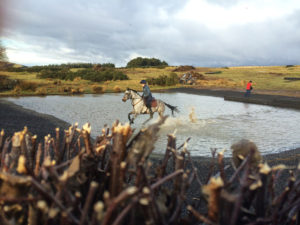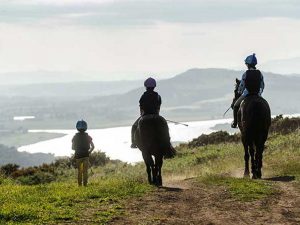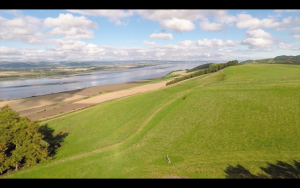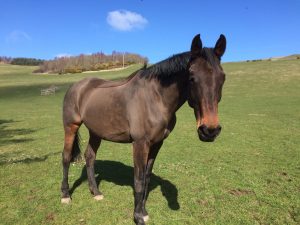 There are a number of local instructors who visit Lindores, who would be happy to help should you want to fit ina lesson during your stay, we recommend you book direct and have a list of local instructors atwww.lindoresxc.co.uk/instructors/.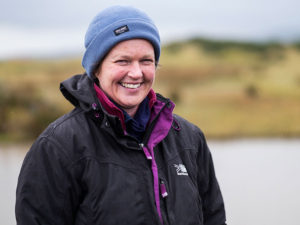 In addition Howe Country Centre hosts has a full competition and training schedule and is a short (12 minute) drive away. For those who wish to travel slightly further afield then over five miles of sandy beach awaits you at St Andrews West Sands and Tentsmuir Forest. And for when you are off your horse there are a huge number of local places of interest to help you relax and enjoy the area.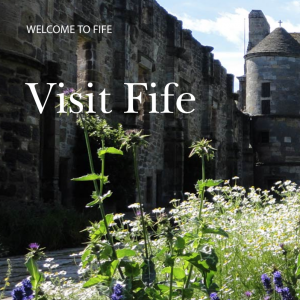 Only a short drive away you could experience the brand new Lindores Abbey Distillery with bar and café or visit Perth, St Andrews, Falkland and much more. For ideas on things to do visit https://www.lindores.co.uk/relax/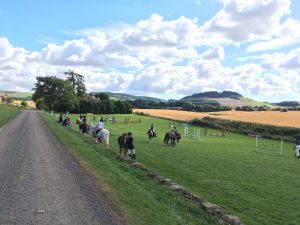 Our friendly family farm offers the ideal place to come and have fun with your ponies or horses and we are also dog friendly too. Horse holiday stabling costs start from £20 per night and you can choose to buy hay, straw, shavings whatever suits your horse and makes them feel at home.
Hacking around the farm is welcomed and riders can make use of the cross country course, sand school and grass show jumping paddock which are available to hire from £20 per horse for an hour. Body protectors must be worn when on the cross country course and you must be accompanied by someone on foot or horseback for safety. We take safety seriously which is why our facilities are
Accommodation
There are a number of accommodation options available:
1. Luxury homes to accommodate all party sizes only a short distance from the stables and boasting stunning views, en-suites, comfy beds and private hot tubs to really help you unwind. Lindores Lodge – a self-catering luxury lodge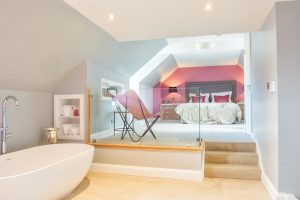 which sleeps 6+2.  In addition we also have 'The Arches' a luxury couples retreat, and new for 2018 'The Glasshouse' which sleeps 4+2. Book online www.lindores.co.uk.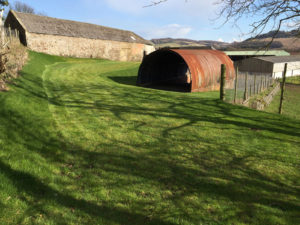 2. Pitch your tent – We have a grass campsite to cater for a small number of tents, with toilet, shower and catering facilities onsite. Campers are welcome to use the Bothy which is a converted barn shed with wood burner, small kitchen and fridge. Pitch price is £10/night for 2 people and £5 per person thereafter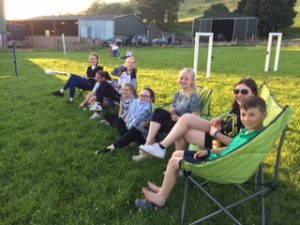 3. Bring your caravan or horsebox – We have hard standing for caravan and horseboxes and also have electric hook up points.  You are of course welcome to use the shower and Bothy. Lorry parking from £10 per night for 2 people and £5 per person thereafter.
4. Local B&B's – there are a number of B&B's available locally Please book these directly, for more information google accommodation near Newburgh.
Booking
Please contact Lindores direct to check availability for stables / tent pitches / horsebox pitches and for customers wishing to stay in the luxury accommodation its worth checking availability online at https://www.lindores.co.uk/stay/ .
Booking early avoids disappointment but we will do our best to accommodate. We look forward to seeing you soon!
The Lindores Team x
Stay Connected For Offers and Updates
www.instagram.com/lindoresstay
www.facebook.com/lindoresequestrian
Lindores Accommodation – www.lindores.co.uk
Lindores Equestrian – www.lindoresxc.co.uk