Author: Equiteam Instructor Liz Daniels UKCC Level 2
Wobbleberries Camp Day Three – Event Day!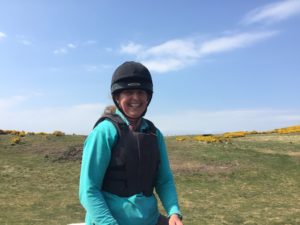 Day three is our final day of camp and it's a busy day again for the campers. The day starts with a bacon and egg bap (thanks Lou – you rock) and of course endless cups of tea!
As this camp is for Wobbleberries who are aiming at BE80 we carried on our eventing camp theme and today our campers rode all three disciplines (a dressage test, show jumping course and cross country) in one day. Day three is about consolidating what has been learnt during camp and gaining extra confidence / self belief to then go and recreate it on their own.
After wolfing down breakfast I went out with some campers to walk the grid distances that were still out from yesterday, so that they can practice at home. After that it was down to the dressage field where I had a quiet half an hour with one lady who is dyslexic and struggles to learn her dressage tests.
I always love working with people, finding out what makes them tick and ways which I can maybe help a little. It doesn't matter what someone's own challenges are I'm a great believer that many roads lead to Rome and it's just about finding out what works for the individual.
We soon had a plan in place of what we were going to do and how we were going to approach the dressage test riding together.
Dressage tests and show jumping…
We invited instructor Dossie Wang to judge the dressage tests and Lou did the writing. Its such a huge bonus having an actual dressage arena set out in a separate field for our use, and is so good for test practice. Each camper is allocated extra time so that Dossie could give extra feedback.
As the first couple of campers rode their dressage tests I built a show jumping course so that following their dressage they could come and pop around the show jumps, with the dreaded F word. For those of you unsure of the F word.. its fillers!
All of the campers jumped amazingly and proved that fillers are not as scary as some thought! What was really nice to see this morning was the new found confidence in both the campers and also in the horses. One camper had never jumped a course before today and went straight in and happily popped over an 85cm course like she had been doing it all of her life.
Three of the very inexperienced horses, (one had never jumped at all prior to camp), came in brimming with confidence and really wanted to do the job. The ground being so hard due to lack of rain at the moment has of course been a real consideration throughout camp and coupled with tired ponies everyone just jumped one round.
After 11 horses had jumped round I went to help the lovely lady with her dressage test. She did an absolutely brilliant job, I was super proud, and she bagged herself a lovely 65% test!
An afternoon of achievements…
After a super quick lunch it was time to climb up Lindores for my favourite office view and we were back up the hill for the cross country. Today I wanted to simulate course riding so after a warm up we walked the course discussing the varied fences and terrain and then each rider rode a course to suit the level they are currently riding at. Again Lindores Cross Country is so great for this as there is a big variety of fences.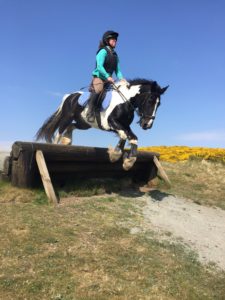 One lady had a fall warming up cross country. As we all know this is something which happens, but it's never nice for the rider (or instructor – believe it or not we dislike this as much as you!). She was soon back on her feet and dug really deep to carry on. This can often be the hardest part – getting back on after a fall and jumping the same fence again and then pushing yourself some more. The lady did absolutely brilliantly, rode amazingly and finished the session grinning from ear to ear having added many more achievements to her belt.

Everyone jumped brilliantly and some riders bagged the Lindores Boat in the water complex for the first time – lots more grins from horses and riders and a huge well done to you all.

After the last group walk back down the hill Lou and I had a mini de-brief about camp and we sat for 10 minutes in the glorious sunshine among the coconut smell of the gorse. Simply amazing! I always feel a mixture of emotions after the lessons have finished, so genuinely happy for people's individual achievements, but sad that's its almost over.
The final presentation…
Back at the hub of camp life (The Bothy) we did a final presentation, shared some big achievements, recounted a few highs and lows and of course thank our campers. We always ask our campers for feedback and ways of improving our camps in the future but once again we were totally humbled by comments and feedback – thank you so much. Watch first hand how our campers felt at the end of the experience here
This camp was dedicated Wobbleberries, inspired by Hannah Francis, and so Equiteam (Lou and I) and Lindores Cross Country will be donating a % of the camp profits to this fabulous cause.
As another camp has come to a close there are two tired but very happy camp hosts looking forward to an early night! A massive thank you to everyone who came to another brilliant camp and once again to the Black family at Lindores. Without this facility we would be unable to host anything like that in this area and I feel so very lucky to have it. We are always made to feel so welcome, nothing is ever too much trouble and I joke that Lou and I will be moving in soon!
For anyone thinking of hosting a camp I couldn't recommend it enough. Thank you Anna and family – you guys are awesome.
Thanks for reading my blog
Liz
If you're interested in attending an Equiteam Camp with Instructor Liz Daniels
If you're interested in stable hire or training your horse at Lindores Cross Country
If you fancy a holiday with your horse
For Wobbleberries updates