Event: Wobbleberries Camp May 2017 – Day 2:
Author: Equiteam Instructor Liz Daniels UKCC Level 2
(Not sure where to start!!)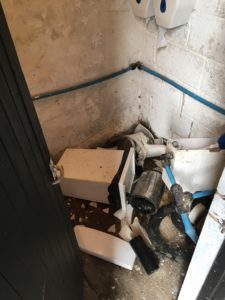 Last night we had a Lindores experience which we hadn't previously encountered and it's too good not to share!
Just before 11pm we got a phone call from a lovely camper to say that there was an issue with the spare toilet and it was inhabited by a calf who had escaped its pen, gone into the toilet and destroyed the contents in only a way a cow could!  Luckily the calf is fine, needless to say the toilet is not and now getting a refurb!! Possibly the most unlikely event we could have predicted and another job for the Lindores team!
We arrived on day two and the campers are already smiling. Day two is usually my favourite day at camp as you see people achieve things they didn't believe possible! To me it doesn't matter if this is cantering in an open space for the first time, or jumping 1.15m, it's all relative but there is nothing like seeing a genuine smile on someone's face and it always makes me feel so lucky to have such an awesome job!
The morning lessons were grid work. For a couple of our riders this was the first time they had ever done grid work, but they fully embraced it! Grid work is so educational for both horses and riders and something we always do at camp. Alongside the grid work we looked at how to jump on an angle and the striding between fences – which everyone nailed!
Another awesome thing I see at camp is the development of horses and riders and I'm a great believer that horses go away and process things overnight and come back the next day with a completely different understanding.
This was certainly true for a number of the less experienced horses who had cantered down the poles yesterday unsure and struggling to consistently make the distances, where as today they were brimming with confidence, ears pricked, taking their riders through the poles and ready for the next challenge.
All of the horses and riders jumped brilliantly, with many more getting PB's, everyone improving and growing with confidence. Such an awesome job, well done all!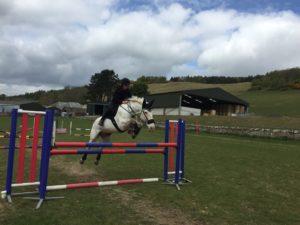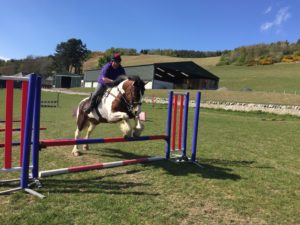 A quick bite to eat at lunchtime (and no exercise session today the legs are just a touch stiff!) before heading up the hill for the cross country.
I always walk up to the top of the hill (instead of drive). This is for two reasons.. Firstly I can justify eating more of LouBirds amazing tiffin(!) and secondly because as you get to the top and look left the view is breathtaking. I never tire of seeing it and it's always worth the climb.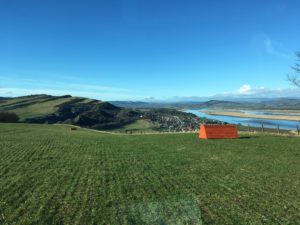 Many of our horse and rider partnerships are new to cross country and they all did brilliantly. On the XC there are a huge range of fences from 40cm upwards and after a warm up I always try and send the riders out to string a few fences together. From an instructors point of view it's a great course as you can link lots of fences together whilst still being able to see the riders!
Many campers jumped the ski jump for the first time as well as the new Danny MacAskill keyhole fence, which has become the 'must jump' fence for 2017! There were a couple of 'digging deep' moments, but some massive steps made!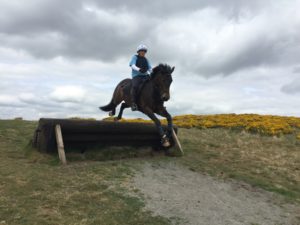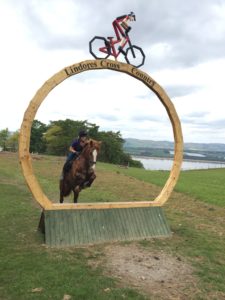 A few of the riders were concerned that their horses were feeling tired before they went XC, although they definitely all perked up when they were up there and jumped fabulously. Many of our Wobbleberries are now realising their aim of a BE80 is very achievable and firmly insight.
As a training facility Lindores is great, one horse had an 'issue' with ditches and it's an ideal place to address this. After sessions finished the lovely walk down the hill means that the horses are nicely cooled down by the time they get back to the stables.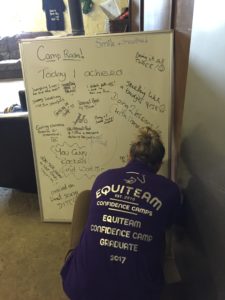 As lots of happy faces congregated in the bothy, shared stories, experiences and write their days highlights on the 'achievement board' Lou had another amazing meal prepared.
During dinner one of our lovely campers set up a slide show of the achievements she had captured in between her own lessons. I really enjoy the fact that the campers are all so supportive of each other and this really is what makes camp so fab (of course I'm biased!)!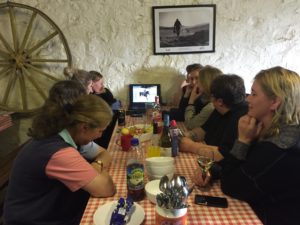 After dinner we welcomed Julia Craig to chat about saddle fitting. As always Julia was enthusiastic and informative and our campers learnt lots about different kids of saddles as well as tack fitting. Big thank you to Julia for giving up her time to chat to us.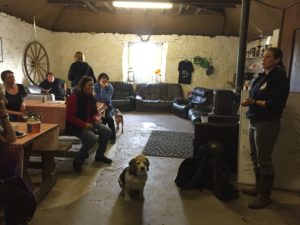 Another long but very enjoyable day at Lindores and we are all looking forward to day three!
More to follow tomorrow,
Liz
Equiteam Confidence Camps Facebook page
Danny MacAskill Wee Day Out – Behind the scenes of Hay Bale Film Footage
Lindores Cross Country – Horse Holidays and Camp venue
Lindores Lodge – Luxury self catering accommodation in Fife, Scotland