Description
Bring your own horse and experience off road hacking like never before. Our farm has incredible views and various terrain. An ideal facility to get you and your horse fit, or simply enjoy being out and about in a safe environment.
Up to 6 horses can hire, and solo riders must also be accompanied by someone on foot or bike for safety. Dogs on leads welcome.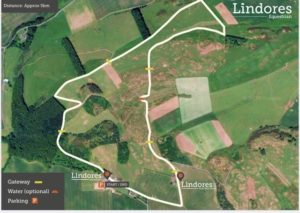 HILL HACK ROUTE: This core circuit is 5km long. The hack includes grassland, farm tracks, uphill, downhill, flat areas, our new and extended water complex (optional) plus 360 degree panoramic views. There might be gates closed on the hack route which require the rider to mount and dismount or the person walking with them to open and close (we try our best to leave them open for ease, but as a working farm this is not always possible due to stock safety). Riders are not allowed to jump the cross country fences on this hack option. This farm route includes stunning 360 degree views over Fife, Angus, Perthshire. The hack takes approximately 50 minutes depending on your pace.